Enter details
Payment
Complete!
Santa's Grotto 2017
Dates: Monday 13th November 2017 – Wed 20th December 2017
Come to the ground floor of our Emporium Store to find our enchanting Santa's Grotto with an exciting new theme for 2017. Each child will get to meet with Santa himself, as well as receive an age appropriate gift and a professional quality photograph in a mount to remember the experience. You will also have the opportunity to purchase additional items such as supplementary photographs, greeting cards and picture frames, which will all feature personalised photographs from your visit; perfect for Christmas presents or special keepsakes.
Location: Emporium Store Ground Floor
Price: £14.95 per child / adults free of charge but must be accompanying a child
(* a booking fee of 90p applies to each transaction, irrespective of the number of tickets purchased e.g. a customer purchasing two adult and two children's tickets will only pay a total booking fee of 90p)
Your booking session will time out after 20 minutes to ensure the fairest booking journey for all our customers.
Please be aware that all children must be accompanied by a responsible adult and remain the responsibility of said adult at all times.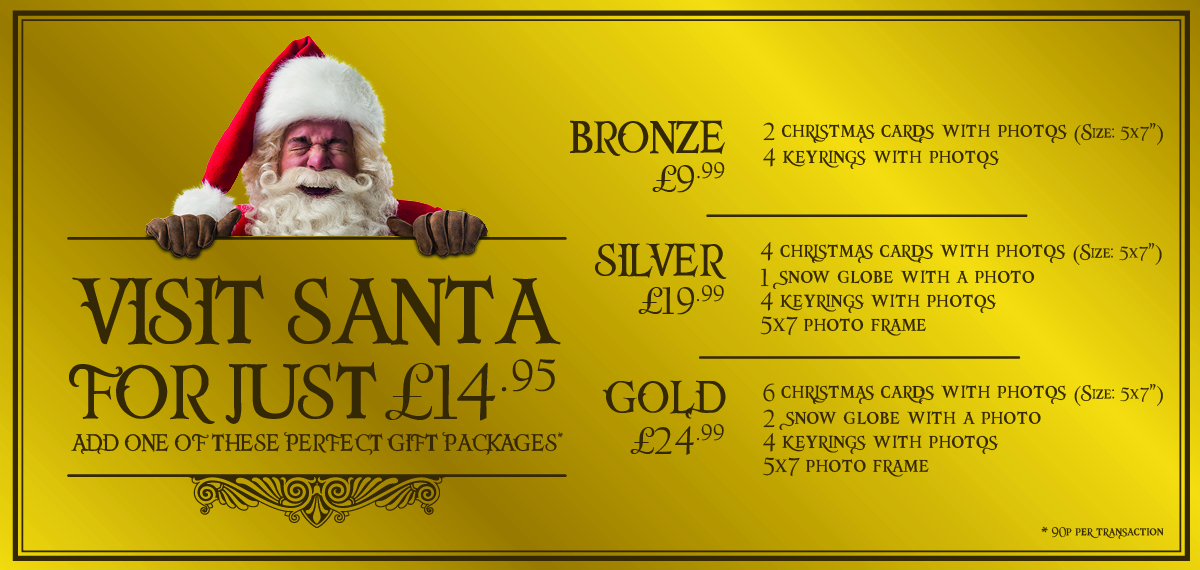 Your Basket
Item
Price
Qty
Subtotal
There are no items currently in your basket

Total

£0.00